For those of you where were left waiting with the last posting about horror themed tattoos I made several months ago in which I said that I would post about the tattoo work of various artists, I do apologize for the long delay.
Surely, we all know that life happens.
That said: One of those happenings in my life just so happened to be the Ink Life Tour; a tattoo and music convention that passed through my city about a week and a half ago.
While I was there, I got a chance to look at portfolios of the artists who were invited to be a part of the tour. Naturally, the one that caught my attention the most was Tye Harris.
For those of you that pick up tattoo magazines, you may have heard about him in issue 26 of Tattoo Society, and a recent publication of International Tattoo Art.
Tye hails from Texas, and he specializes in black and grey realism and portrait tattoos. His portfolio something to me admired, but I'll let the art speak for itself:
Tye has been tattooing since 2006, and though he's listed on Facebook as a self-employed artist, he has worked in No Surrender Studios, in San Marcos, Texas; been featured as a guest artist for shops such as Illuminati tattoo in Huston, Texas, and Electric Soul Tattoo in Lancaster, California. Needless to say, the guy travels around quite a bit in his job, and Ink Life is not the only tattoo convention he's been a part of.
He has more than 35 tattoo awards going for him, most of them ranking in first place.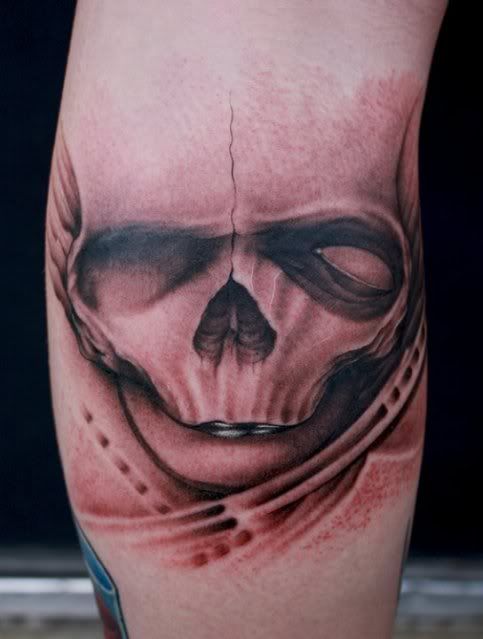 If you would like to see more of Tye's portfolio, or would like to get tattooed by him, you can follow the link at the bottom of this post to his facebook page. There you can view his portfolio, and/or send him a message if you would like to get tattooed by this very talented and very friendly man.
(Yes, I did get tattooed by him at ink life. He is quite the friendly guy, and we had fun and interesting conversation. And no, my tattoo is not posted here, as it's not related to horror.)
But, before I depart, I leave you with a video I found on youtube of Tye's tattoo work in action (the facebook link is right below the video):